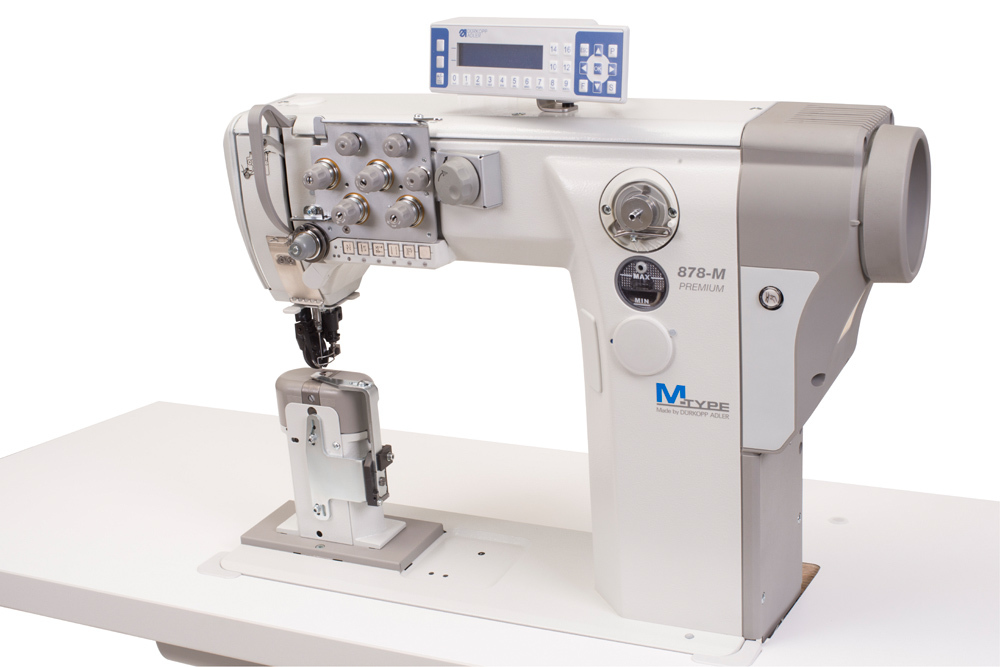 NEWS!!! 878-160722-M and 878-260722-M
Our company – the largest European manufacturer of industrial sewing machines for the shoemaking industry, has added another class of sewing machines to the popular M-Type series for footwear.
A postbed sewing machine of a medium-heavy series class 878 Premium, with a comfortable electronic control in a single needle and a double needle version. The sewing machines are fitted with a compact direct drive. The control unit is DAC Comfort with an OP3000 control panel on the sewing machine head.
Main parameters of 878 Premium sewing machines:
one-step wheel feed, driven roller presser - both driven with step motor; the sewing machines are not equipped with needle feed
foot lifting by step motor, stroke adjustable up to 13 mm
electronic hand wheel at tensioner plate, solenoid controlled
thread trimming by solenoid
backtacking is possible by pushbutton near stitching area
large two-piece vertical hook with bobbin diameter 26 mm
completely fitted keypad under tensioner plate
safety pushbutton to block sewing machine operation during threading
sewing parameters - scope of usable threads and needles is identical with 888-M type series
Optional sewing equipment for class 878 Premium:
bobbin thread monitor (diode lighting up indicates small stock of bobbin thread in respective hook)
electronically controlled tensioners with needle thread tension automatic setting from 0 to 1610 cN, also possible dependent on other parameter
electronic knee lever with option of various functions assigning
operator´s eyes protection by operation blocking at sewing machine tipping
sewing machine operation blocking at hook guard tipping
threading gun to pull thread through pipes towards electronic tensioner plate